Haleakala Sunrise
When, How & Where to Visit Haleakala
Haleakala Sunrise
When, How & Where to Visit Haleakala
Haleakala National Park Alerts & Conditions (as of February 10th, 2021)
Phased Reopening: Following guidance from the CDC and recommendations from state and local public health in consultation with NPS Public Health Service officers, Haleakalā National Park's Summit District trails are open for day use. All sunrise entries

between 3 am and 7 am

 require reservations made up to 7 days in advance and must be made prior to visiting the park ($1 per vehicle and a separate entrance fee when entering the park.  Reserve at recreation.org). Bring your pass and ID. Kipahulu District is open from 9 am to 5 pm daily, though camping is closed.  The Pools of 'O'heo are also closed.

Visitor Centers are closed:

All visitor centers, including Haleakala Visitor Center (9,740 feet), Headquarters Visitor Center (at 7,000 feet), and the Kīpahulu (Hana area) Visitor Center are closed.

Backcountry is closed:

All backcountry cabins and tent campgrounds are closed. Red Hill Observatory is also closed.

Special Events are canceled:

All special events and guided programs, including hikes, walks and talks, night sky programs are canceled until further notice.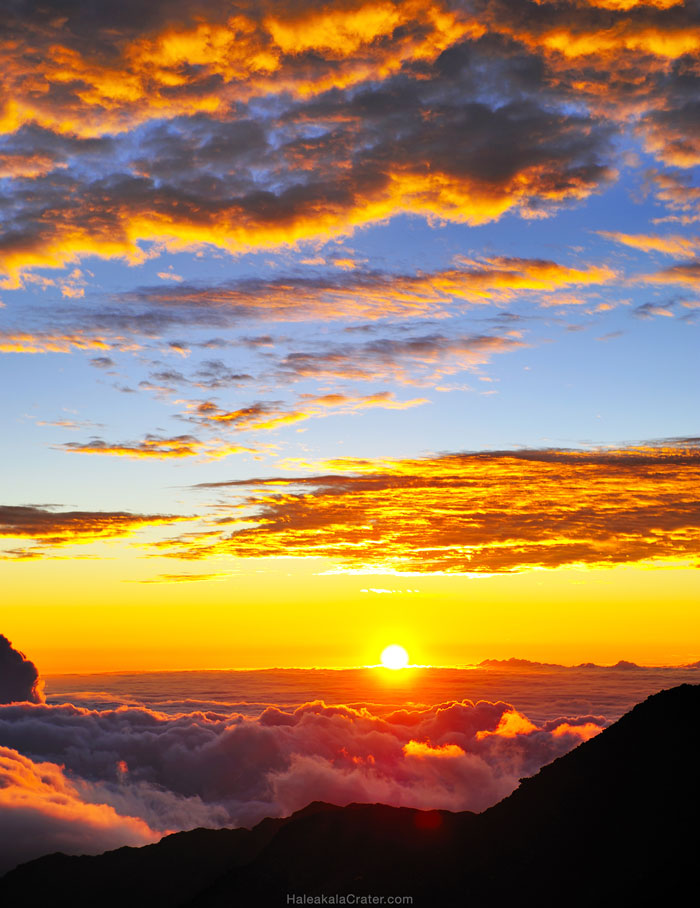 The following information has been unedited and true for when we are not in a temporary closure.  We'll share when things open up again.
Given Maui's perennially warm climate, visiting Haleakalā is a year-round option; the park is also open 24 hours per day, 365 days a year (with the exception of "extreme weather events," the National Park Service reports, or virus outbreaks).
Haleakala Sunrise is the most popular time to visit, and for good reason: Witnessing the sun soar from the summit—in all its striated glory—is downright astonishing. Nature's show-offy display has become so popular that it now requires advanced registration (to improve traffic and streamline crowds between the sunrise hours of 3 and 7am). Reservations can be secured two months in advance and up until 6pm the day before your visit. The fee is minimal, $1.50 per car (as of this writing in March 2018). Photo ID is required at the entrance, and payment to visit the National Park (which is valid for three days) is made separable upon entering.
Can't bear the thought of setting your alarm for an ungodly hour while on a vay-or-stay-cation? Don't distress: Day-time journeys are just as terrific, while sunset—and the sudden onslaught of stars nighttime creates—is outright phenomenal.
Haleakalā's Headquarters Visitor Center, near the park entrance, is open from 8am to 3:45pm; its Visitor Center near the summit is open from 6am to 3pm.
Haven't booked your reservations 2 months in advance?

Haleakala Van Tour
Another top option for conscientious spirits is with a Haleakala tour listed above. These educational tours start with a guided tour of Upcountry Maui and its lovely gems, followed by an ultra-informative and yet uber-relaxed journey to the summit, where leaders share their in-depth knowledge on Haleakalā's features.
Volunteer
Eco-travelers—avid or aspiring—will get their kicks by volunteering with Friends of Haleakalā National Park, a nonprofit that arranges volunteer trips into the volcano's depression (and its resident cabins) once a month. Typically two nights and three days, these trips take up to 12 volunteers on a charitable excursion filled with miscellaneous tasks (such as nene habitat improvement and cabin cleaning) and heart-stopping scenery. What's more, volunteers are given inside info on Haleakalā from organization leaders. "Each of our trips is accompanied by at least one trip leader who is either a park ranger or a volunteer associated with the Friends of Haleakalā," the nonprofit's president of the board Matt Wordeman says. "The trip leaders associated with the Friends have all had training from the park on the biology, geology, mythology and history of the park, so we spend a lot of time teaching people about the plants they see, about the animals they see and about the features inside the park geologically."
Haleakala Camping
Prefer to camp on the mountain on your own? Located just below 7,000 feet, Hosmer Grove presents more of Maui's wonderful wilderness, from Japanese sugi to Douglas firs and pines. Here, amenities include picnic tables, pit toilets, and BBQ grills; a self-guided walking tour begins and ends at the campground. Be forewarned, though: rain and wind are prevalent, with average day-time temps hovering in the mid-60s and nighttime temperatures dropping near freezing.
Those who'd prefer to keep the tropical in their island vacation ought to head to Kipahulu. As with Hosmer Grove Campground, camping here is on a first-come, first-serve basis. Unlike Hosmer Grove, however, the Kipahulu Campground, just south of the Kipahulu Visitor Center, is positioned right above the sea next to Oheo Gulch (and sees rain and sunshine in equal measure).
Maui Bike Tours
More audacious travelers will discover their thrills biking down the volcano's slopes with a Maui bike tour. Easily one of the most popular Maui activities on the island, tours commence at the 6,500-foot elevation and take riders down twenty-three miles of sheer grandeur.
Haleakalā Summit
Roughly two and a half hours from Central Maui's Kahului—and three to three and a half hours from Kihei and Lahaina—the summit is where it's at, with camping, guided activities (such as horseback riding tours), hiking, and sky-watching at your disposal. The entrance station is located at 7,000 feet; the summit at 10,023. Meaning: Those sensitive to high altitudes—pregnant women, the elderly, young children, and individuals with respiratory problems—should proceed with caution.
Kalahaku Overlook
Located in the national park at mile marker 18.7, Kalahaku Overlook—at 9,324 feet—offers outstanding views of the volcano's floor, Kaupo Gap, and Koolau Gap. Kalahaku Overlook also provides an observation deck complete with information on Haleakalā and its varied lava formations.
Sliding Sands Trail
Traditionally known as Keonehe'ehe'e, Sliding Sands Trail is arguably one of the most extreme and breathtaking (literally) hikes on the island. Starting at the summit's visitor center, the trek descends 2,800 feet within four miles, whereupon intrepid wanderers can choose to continue on the Halemau'u Trail. Twelve lung-and-leg-burning miles, it's a worthy haul: The scenery brings new meaning to the word "dramatic."
Kaupo Gap
Occasionally called "The Backside of Haleakalā," Kaupo—which rests near Kipahulu on the southern flank of the mountain—is a windswept wonder that can be accessed by car (or, for bolder, fit souls, on foot). Its arduous trail—it's ranked one of the toughest on the island—takes ramblers across the crater floor, through a ridgeline, and out of the national park to a gorgeous, seaside village. Drivers won't have the smoothest of sails, either—the road, while recently modernized, is rough and pot-holed, but the trip is well-worth the endeavor: the remote, historically-rich town is akin to walking into another century.
Kipahulu District
Mount Haleakalā might get a lot of love but also know this—as mentioned, the entire park is comprised of over 30,000 acres and takes voyagers far beyond the summit's alpine starkness: On the eastern side of the volcano exists Kipahulu, where ti and moss replace cinder cones and lava tubes in the lush, tropical rainforest. A region that was added to the park in 1969, here you'll find Oheo Gulch (also known as Seven Sacred Pools) and the Pipiwai Trail, which takes hikers through a copse of bamboo to Waimoku Falls—that, at 400 feet, is one of the largest and most beautiful waterfalls on the island.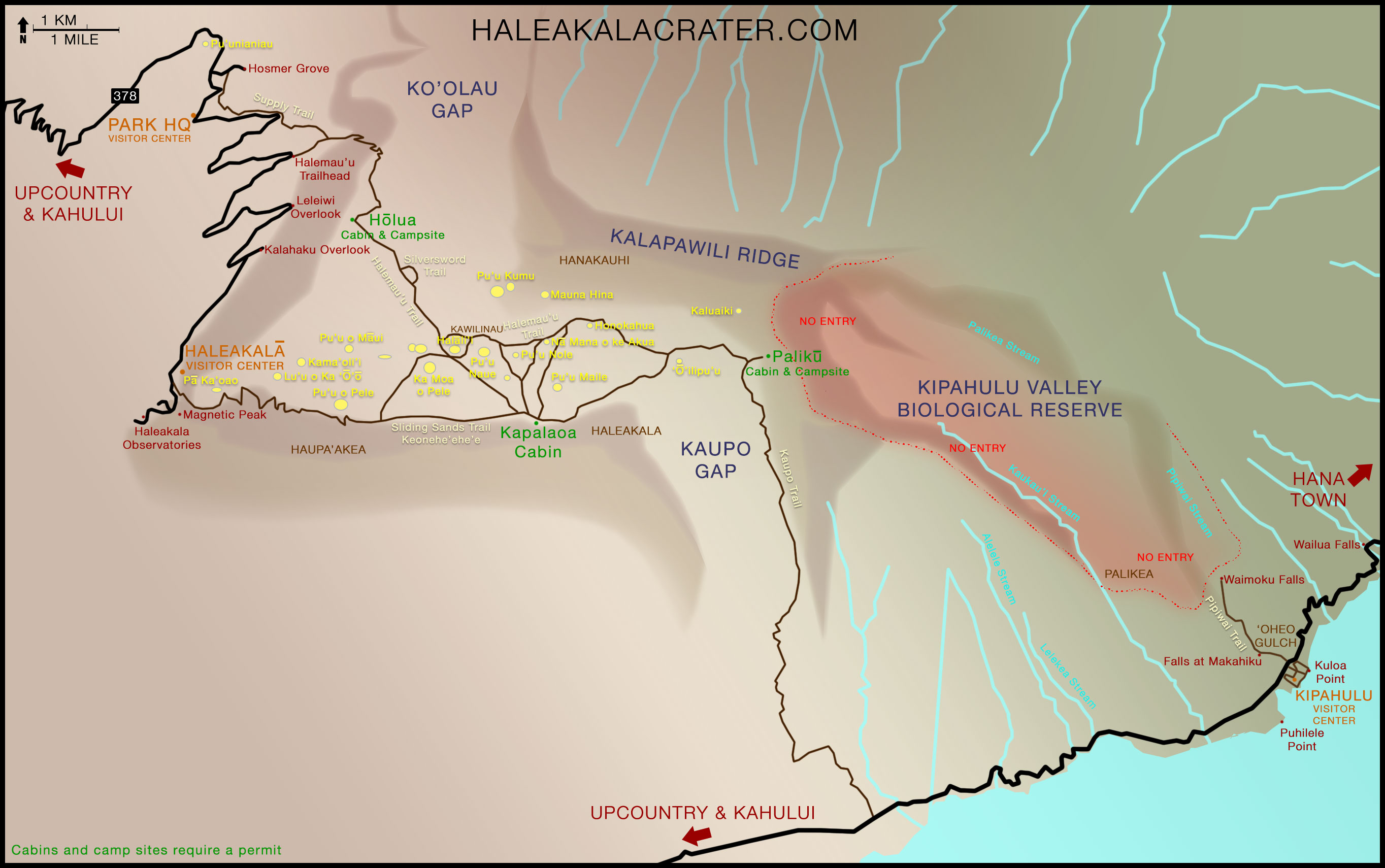 Given its cooler temps, cold and wet weather gear is a must; ditto for sun protection. Water is also essential, particularly for those who might be prone to altitude sickness. Hiking off trails, fires, and camping in undesignated areas are all prohibited.
Whenever you visit—and however you arrive or descend—know that you may experience what Jack London once wrote; that "Haleakalā has a message of beauty and wonder for the soul that cannot be delivered by proxy." To which we say, hana hou—and well-said.