"But the chief pride of Maui is her dead volcano of Haleakala–which means, translated, "the house of the sun…It was the sublimest spectacle I ever witnessed, and I think the memory of it will remain with me always." – Mark Twain
Following in the footsteps of the great Mark Twain, my fiance and I recently set out on a pristine Saturday afternoon to embark on the 22-mile round trip cross-crater journey in Haleakala Crater to spend the night at the venerable Paliku cabin.
CAUTION: Let me start with the fact that this hike is NOT for 95% of the population.  It's 22+ miles of loose lava rock, deep sands, tall stone steps, sharp bushes, and that's just the terrain.  It's very hot.  Then it's very cold.  Then it's very wet. And repeat.  You're hiking at an elevation that's higher than what the US Olympians train at in Colorado Springs.  And you're doing that hiking both with a very heavy bag but also up and down steep paths along the whole hike in and out.  If you fold an ankle, you better be ready for at least a few days of hobbling out. Temperatures go to freezing at night and the water at Paliku is literally yellow.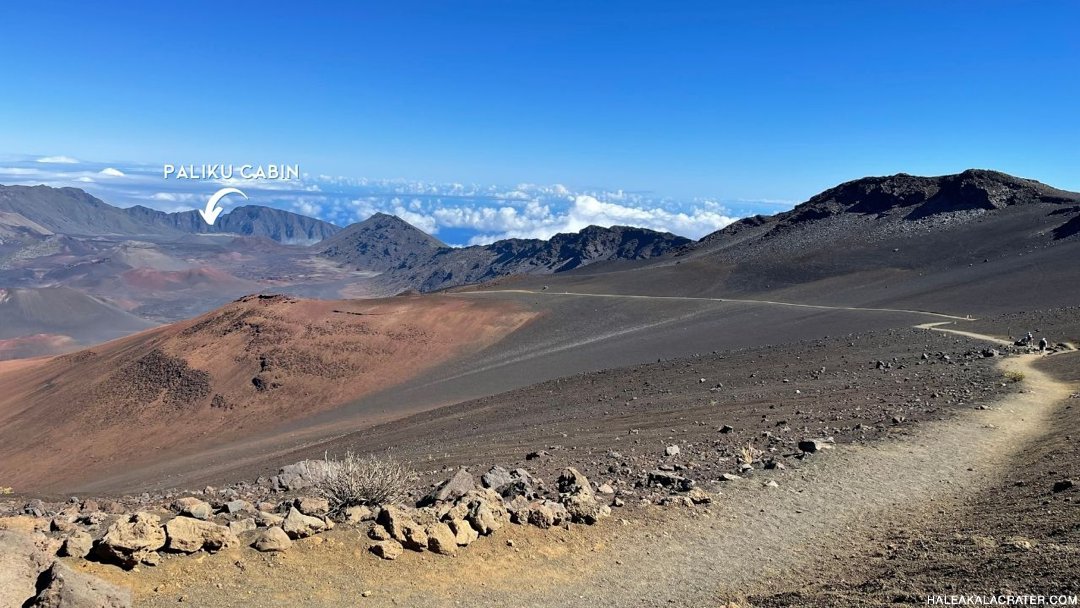 Getting Ready For the Crater
I've backpacked quite a bit in my life, so having backpacking experience makes this trip a possibility. As it's an out and back hike with a one-night sheltered stay, it's not too much to plan for, but if you don't have a few key items it could be an extremely uncomfortable 24-36 hours. Having lived in Hawaii for 11 years, I'm not aware of anything else quite like it. I'd like to share a little bit of my experience on that trip and share a few things that are good to know if you are planning on following in Mr. Twain's steps in the crater yourself. – by Evan Harlow
Prepare For the Weather
First, plan for every type of weather possible. This means be prepared for extreme sun, extreme rain, and extreme cold. The sun is extremely strong at 10,000 feet and you'll be extremely exposed for the entire hike. I recommend wearing a breathable sun shirt with a hood like the one from Free Fly Apparel I have on in the picture. You'll also want to wear a hat, long pants, and bring some extra sunscreen for your nose. I'm only ultra-cautious about the sun in the crater because I've been burned before!
After sun protection is rain protection. The weather can change rapidly in Haleakala National Park and when the rain comes in, you'll get soaked quickly if you're not prepared. You'll want to bring a rain shield for your backpack or a trash bag works too, bring a rain jacket, water-resistant pants are great, and also an extra pair or two of socks. Waterproof hiking boots or shoes are a must. Nothing is worse than hiking miles on miles with wet feet. In the evening the temperature can drop in the 30's, so a warm sleeping bag, base layer, and puffy jacket are great to have as well.
Prepare Your Fuel
Dehydration comes quickly at this elevation and exertion level, so packing more than enough water is wise. I use a 3 liter camelback and a 1L Nalgene. There is running water at Paliku cabin, so bringing a filter can help reduce your pack weight on the hike also. Since there is a gas stove at the cabin and it's only a one-day hike, you can go as gourmet as you want with the food!
We did our trip the weekend after Thanksgiving, so we just brought leftovers, including gravy, and reheated in a pan at the cabin. It was amazing after the long hike that got wet and cold at the end! For breakfast, we had a few eggs and some salami along with some hot tea. Along the trail, you'll enjoy having some of the usual trail snacks, Clif Bars, beef jerky, Fruit Roll-Ups, etc.
What You'll Find at Paliku Cabin and How To Book
This was my first time staying in the cabin, so I did not completely know what to expect. It's a very rustic and basic cabin that has four bunks. They aren't the most comfortable and having a sleeping pad is a nice bonus. There is a wood stove there and you'll get a code to a locker that has three pieces of pressed firewood inside.
It's a little tough to get started as they are compressed wood, so you'll use the cutter next to the stove to shave the wood and I'd recommend bringing a firestarter stick or two. Make sure you have a lighter as well. Be careful though, the stove can make the cabin too warm, so start with a little wood and add slowly.
There is a single gas burner to cook on. There is a sink to clean out your pots and dishes. There is no electricity, so having a camp light you can hang is nice if you wanna stay up and hang. There is a really cool, large wooden table with a ton of carvings on it. I've always been intrigued with the universal human instinct to leave a mark! There is an outhouse a short walk from the cabin, but it's also shared with the tent campers, so sometimes there's a queue.
It's not easy to get a reservation though. You have to plan 6 months in advance to reserve the cabin for you and your group and it's currently $75 per night.
Is there camping in Haleakala?
Yes, but the sites are few and far between, and book 6 months in advance (like the cabins).  Can you go rogue and just show up and make camp?  NO!  Our rangers are unlike any other enforcement team on Earth.  You won't just get a slap on the wrist.  It's VERY serious.  You don't want to do wrong while in THEIR world.  Scary.
What You'll See (and Hear) in Haleakala Crater
All along the hike, you'll be in awe of just how uniquely beautiful this zone is. I am always amazed at the different shades of red and brown of the earth, the greens of the plants that survive this harsh climate, and the silver of the iconic silverswords. You'll come across many of the Hawaii state birds, the Nene, and hopefully, you'll get to watch and hear them fly in for a landing. They travel in pairs and mate for life, a very sweet symbology if you're hiking the crater with your partner.
When you get further in the crater to the point where most day hikers turn around, you'll start to really notice just how incredibly quiet the crater really is. Like, eerily quiet! Which is even more pronounced at night while you're watching the stars. Speaking of stars, with the absence of light pollution and the help of the elevation, you'll see one of the most amazing night skies of your life. Most nights are clear up there and all kinds of comets and meteors shoot across the sky throughout the year.
Leave No Trace
Naturally, we all want to preserve these sacred spaces for our own enjoyment and for those of future generations. Haleakala is such a pristine place and also a very delicate ecosystem. Taking extra care to stay on the trail helps prevent unnecessary destruction of the fragile plants and hiking out everything you bring in is always the best practice.
Don't Underestimate the Hike Out
Hiking in is not too difficult, it's mainly downhill and doesn't take as long as hiking out will. I hike Makawao Forest and Kula Forest Reserve regularly and my legs were still a little tired after hiking in. So, setting out the morning after your stay you may already feel a little stiff, and then when you hit the last 4 miles, they are basically all uphill. We did the hike in a little under 4 hours, but the hike out took about 5 and a half hours.
The home stretch is pretty blissful and the feeling of accomplishment is real. As a Realtor here on Maui, I'm constantly online and communicating with my clients, so for me, there is nothing quite like going on a planned offline adventure like this, even if it is just for a day. It is a completely rejuvenating experience and if you're physically up to the challenge, I highly recommend you start planning your next trip today!