It's easy to find lists of 'must-visit' places when planning your Maui itinerary. The internet is riddled with recommendations for Molokini, Waiʻanapanapa, and Kaʻanapali Beach. But if you're looking to diverge from the typical tourist haunts, there are scores of beautiful places on Maui that don't always get the love they deserve. Here are our favorite underrated places on Maui you need to visit. 
10 Underrated Places You Need To Visit On Maui
1. Waiheʻe Coastal Dunes Reserve
Waiheʻe Coastal Dunes Reserve is the most beautiful place on Maui you've never heard of. This 277-acre reserve is managed by the Hawaiian Island Land Trust, whose conservation efforts aim to restore the area's shrinking wetlands and dunes. The preserve is also rich in Hawaiian history— the region was once home to two bustling Hawaiian villages. Today, walking trails meander through the reserve's expanse of green, past native plants, ancient heiaus, and along a wild and rugged coast making it one of the most underrated places on Maui. Come to bask in the solitude or volunteer with Hawaiian Island Land Trust. 
2. Coral Gardens
Molokini is often touted as a 'must-visit' snorkeling spot on Maui. But the overwhelming crowds can leave some visitors feeling disappointed. Instead, head to Coral Gardens, where crowds are minimal—if not non-existent— and marine life is plentiful. The reef is located at the base of sheer cliffs, so, like Molokini, you'll need a boat to get here (for a top-notch experience, we recommend a trip aboard the Nova with Maui Custom Charters). Expect to see vibrant corals, plenty of tropical fish, and sea turtles.
3. La Perouse
Near Maui's southernmost point, lava plains spill from the slopes of Haleakala to the sea, swallowing vast swathes of land. This area is known as La Perouse, one of the harshest environments on Maui. Visitors flock to La Perouse to admire the striking scenery: pockets of white sand pop out against black lava rocks, kiawe trees form mini-oases, and the ocean is churned up into a turquoise color you can't find anywhere else on Maui. But few people stay long enough or explore far enough to get a feel for the area. Instead of exploring La Perouse by foot on the grueling Hoapili Trail, feast your eyes via sea. Redline Rafting's Molokini and South Coast tour visits this area, and the view is better and vastly more comfortable from the sea.
4. Waimoku Falls
Okay, Waimoku Falls might not be "underrated" in any sense. But if you're debating whether or not the drive to the remote Kipahulu region is 'worth it,' let me tell you, it is. Located at the end of the Pipiwai Trail, this 400-foot waterfall lives up to the hype. But due to its ultra remote location on the road to Hana, many visitors simply don't have the time to hike the four miles to the falls and back. Spending a night in Hana is highly recommended to ensure that you hit all of your desired stops and have time to hike the entire Pipiwai Trail. Stay at the Hana Kai, a low-key condo complex perched over the black sands at Hana Bay. The Hana Kai's location in Hana Town is ideal for overnight stopovers.  
5. Hulopoʻe Beach
Hulopoʻe Beach on the neighboring island of Lanai is as pristine as beaches come. This crescent of golden sand is bordered by clear waters and palm and kiawe tree groves. The beach is bookended by a luxe Four Seasons resort and sea cliffs studded with tide pools. Not to mention, snorkeling here is tops, and dolphins are often spotted in the bay. Hulopoʻe Beach is a popular day trip from Maui, easily accessible by ferry from Lahaina Harbor. But the best way to experience Hulopoʻe Beach is on a trip with Trilogy. As one of Maui's finest snorkel tour companies, Trilogy has been introducing visitors to the best of Lanai for nearly 50 years. Sail across the Auʻau Channel to spend the day snorkeling, hiking, or join in on a competitive game of beach volleyball with the crew. Throughout the day, Trilogy will feed you, entertain you, and spoil you all around. It's an excellent alternative to the public ferry. They also have a great Maui sunset cruise.
6. Puʻu Kukui Watershed Preserve
Covering 9,000 acres of untouched land in the West Maui Mountains, the Puʻu Kukui Watershed Preserve isn't typically open to the public. But with Helewai Eco Tours, you can peek into a world seldom seen. Helewai Eco Tours revolves around the concept of malama ʻaina by bringing visitors into the preserve to showcase conservation efforts and the importance of a healthy watershed. The tour travels along striking private trails in the preserve, introducing visitors to native plants that are hard to find in non-protected areas. Helewai is a must for those interested in learning more about Maui's ecology or those looking for an off-the-beaten-track experience. The excursion culminates with a fresh pineapple snack at Honolua Bay— it doesn't get any better than that.  
7. Oneʻuli Beach
Oneʻuli Beach is one of South Maui's best-hidden gems and one of the most underrated places on Maui. Located in Makena State Park on the northern edge of Puʻu Olai cinder cone, this beach is known for its unique dark sands and fantastic snorkeling and diving. Heads up! The soft sand abruptly turns to sharp lava rock at the water's edge, so Oneʻuli is not the best beach for casual swimmers. Instead, come here to marvel at south Maui's only "black" sand beach and forgo the 2-3 hour drive to Waiʻanapanapa State Park.
8. Haliʻimaile Pineapple Fields
Pineapple fields forever… is that how the song goes? Swathes of Maui used to be covered in pineapple fields. But after Maui Land and Pineapple's closure in 2009, only one pineapple plantation remains (and it's only one of two left in the US). Head to the Maui Gold Plantation in Haliimaile to get an inside look at the surprisingly-fascinating world of pineapple processing and explore the expansive pineapple fields. Situated at 1,100 feet, the pineapple fields boast epic views of the north shore— reason alone to visit the plantation. You'll also get to try a pineapple picked fresh in the field and go home with several airport-ready pineapples and a boatload of knowledge about Hawaii's plantation-era history.
9. Maluaka Beach: Turtle Town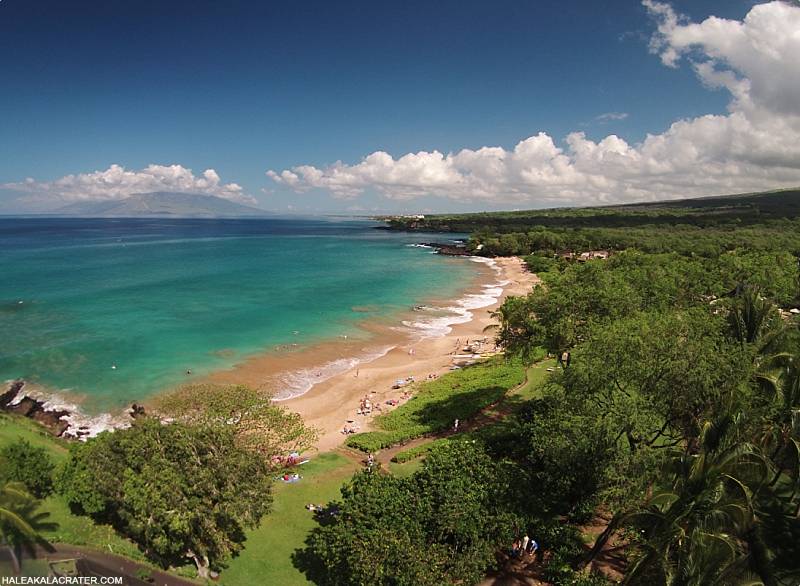 Although Maluaka Beach is home to Maui's illustrious snorkel spot, Turtle Town, you won't find the crowds of Kaʻanapali Beach or Wailea Beach here. Instead, this relatively hidden gem is one of the nicest beaches on Maui, beloved for its velvety golden sands, excellent snorkeling, and lovely views of West Maui. Turtle Town, one of Maui's most famous snorkeling spots, sits just off the beach's southern point. From the beach, it's an easy swim to the reef. But if you're not comfortable swimming from shore, don't fret— several tour boats make stops at Turtle Town. This includes Kai Kanani, a top-rated catamaran that makes a pit stop at Turtle Town after a morning snorkel tour at Molokini. Kai Kanani loads directly from the sand at Maluaka Beach, so you can snorkel with sea turtles in the morning and then relax on Maui's finest beach by the afternoon.  
10. Science City
A collection of gleaming observatories sit perched near Haleakala's summit. This is Science City. The 18-acre area is home to high-powered telescopes and laser systems overseen by the US Air Force and the University of Hawaii. Unfortunately, because Science City is off limits to the public and guarded by high-level security, one can only gaze at the alien-like dwellings. However, the view from the public summit area at Haleakala National Park is fantastic— particularly at sunrise or sunset. If you're having trouble securing a sunrise reservation, or you'd rather just forgo the daunting drive from sea level to 10,000 feet, take a tour with Haleakala EcoTours. A ride in one of their comfortable passenger vans is much more comfortable than driving yourself, and you'll learn a ton about Haleakala's history.