A COMPLETE LIST OF MAUI CAMPING SPOTS
While swanky resorts dripping in luxury amenities are indeed celebrated by most visitors to the Valley Isle, don't be fooled into thinking there are no accommodations reserved for the intrepid. After all, Maui is an adventure seekers paradise at its finest. A range of campsites dot the island for the venturesome traveler, from remote-as-it-gets backcountry cabins to comfortable beachside glamping. If the thought of sleeping under the stars, lulled by the sound of the ocean, gets you more hyped than kicking up your feet at an elegant resort, read on. Here is a comprehensive guide to camping on Maui.
Haleakala Crater/Upcountry
Holua Cabin/Campsite
Holua is one of three backcountry cabins located in Haleakala Crater and is one of only two sites in the crater that host tent camping. Situated in a northwestern corner of Haleakala, Holua is perched at 6,490ft. The cabin is only accessible via a 3.7-mile hike down the switchbacking Halemau'u Trail (think The Princess Bride's "Cliffs of Insanity" only with a small path) or by way of a 7.4-mile trek on the otherworldly Sliding Sands Trail. Tucked below sheer cliffs that form the crater's wall, Holua overlooks the broad Ko'olau Gap that descends to the Keanae Coast and sits facing the imposing 8,907ft peak of Hanakauhi.  Hiking to and from Holua is not for the meak.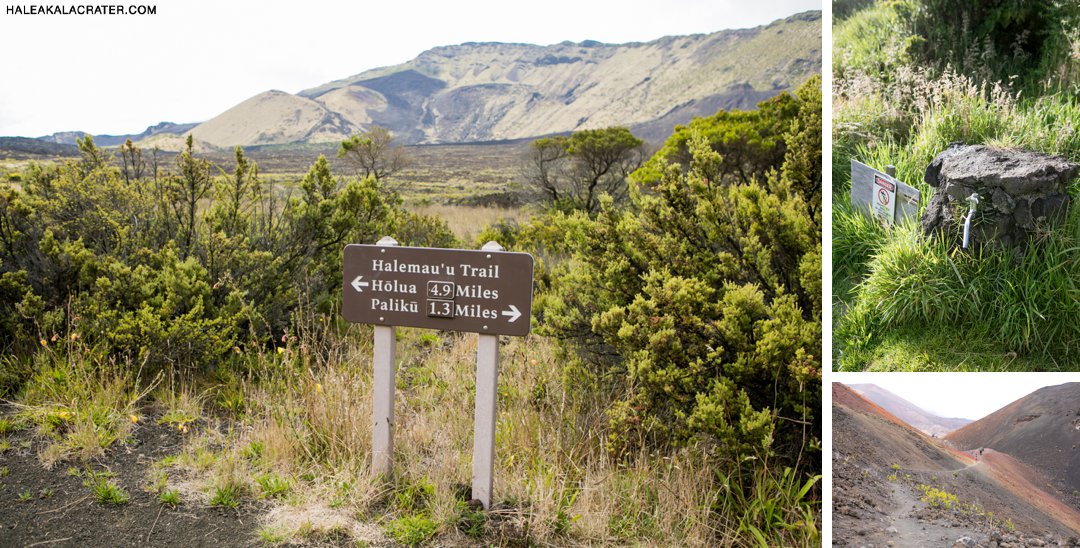 Amenities: Holua Cabin is stocked with 12 bunk beds (currently only 4 beds), a wood stove, a propane stove, and non-potable water. A water spigot is also available for tent campers, although all water within the crater must be treated before drinking. An outhouse is also located near the cabin/campsite. All other amenities like food, water purification, cooking utensils, sleeping bags, etc., must be packed in. There is no trash service, and all food and other trash must be packed out.
The Lowdown: Cabins and campgrounds can be reserved up to 6 months in advance and can be booked online. All sites have a maximum stay of three nights. Cabins cost $75 per reservation. Be prepared for the elements here, as temperatures in the crater often dip below freezing!
Paliku Cabin/Campsite
Paliku is unquestionably the most remote camping location on Maui. Sitting along the base of the crater's easternmost wall, Paliku is only accessible along several strenuous trails (we're talking VERY strenuous!) The most direct route is a 9.3-mile journey on Sliding Sands Trail. Untouched, Paliku offers a peek back in time to ancient Hawaii- dotted with native ohia and koa trees and inhabited by rare, colorful native Hawaiian birds and nenes. Situated at 6,380ft, Paliku is a good spot to begin or end a hike in the Kaupo Gap, revealing the remote Kaupo coastline below.  But that hike is even harder.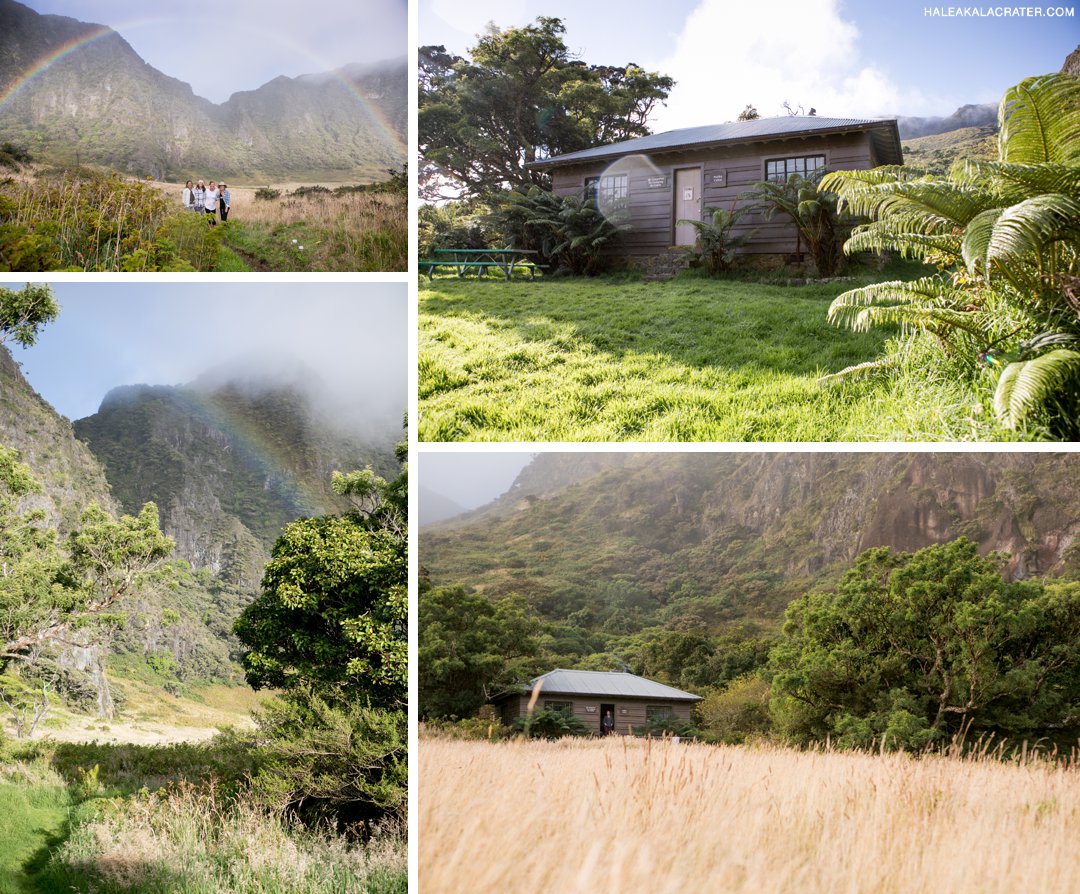 Amenities: Paliku offers backcountry visitors the same amenities as Holua: 12 bunk beds (currently only 4 beds), a wood stove, a propane stove, non-potable water (yellow water that tastes funky even after filter and boil), a water spigot for campers, and an outhouse. All other amenities like food, water purification, cooking utensils, sleeping bags, etc., must be packed in, and all trash must be packed out.
The Lowdown: Paliku can be reserved online up to 6 months in advance with a three-night maximum stay. Cabins cost $75 per reservation. At Paliku, the crater's eastern wall is the only thing that separates the cabin from the dense Kipahulu Rainforest- one of the wettest places on earth. Clouds, fog, and rain here are common- however, that keeps the area lush and green. Prepare for wet weather and literally freezing temperatures.
Hosmer Grove
Hosmer Grove is a small area designated for tent camping and is the only drive-up campsite in the summit area of Haleakala National Park. Located at about 7,000 ft, Hosmer sits just past the entrance to the park. Here, an open grassy area hosts six camping sites, which, depending on where you set your tent up, can boast fantastic views of the remaining 3,000 ft of Haleakala's flank. Hosmer Grove is also home to a short, self-guided nature loop that leads to a gulch overlook brimming with native trees. This is a great place to listen and watch for colorful native birds such as the 'I'iwi.
Amenities: Each camping site at Hosmer Grove offers campers a picnic table, grill, pit toilets, trash cans, and potable water access.
The Lowdown: Currently, reservations are required for camping at Hosmer Grove. Reservations can be made up to six months in advance, with a maximum stay of three nights. Campers who obtain a Hosmer Grove reservation also receive a reservation to view the sunrise at Haleakala's summit.
Poli Poli State Park Cabin/Campsite
Poli Poli State Park is a sprawling natural area reserve located on the western flank of Haleakala. Sitting around 6,000 ft, Poli Poli is home to a cabin, campsite, a network of hiking and mountain biking trails, and hunting areas. Located in the Kula fog belt, Poli Poli is often shrouded in mist, giving the area a dreamy atmosphere. The park's cooler temperatures also foster the perfect environment for distinctly un-Hawaiian trees to thrive, like redwoods, pines, and plum trees, adding to the area's dream-like feel. The Poli Poli wilderness cabin and campsite are located 9.7 miles from Kula via Waipoli Road. Access is strictly limited to 4×4 vehicles.
Amenities: The Poli Poli Cabin can sleep eight and offers campers the use of gas lanterns and a wood-burning stove. Water and linens must be packed in, and warm clothes are necessary. A large grassy area just up from the cabin serves as a campsite, where campers are provided picnic tables, trash cans, and restrooms.
The Lowdown: Reservations via DLNR are required for both the cabin and the campsite. Campsites cost $20 p/n for residents and $30 p/n for non-residents. The cabin will run residents $70 p/n and non-residents $100 p/n. Remember that amenities are limited, and packing in things like food, water, and cooking supplies are essential. The temperature can drop to below freezing, even in mid-summer. Hunters are often in the area, so hikers are advised to wear bright-colored clothing. (As of December 2021, Poli Poli State Park is closed until further notice due to extreme destruction from an early December storm.)
East Maui
Kipahulu Campground at Haleakala National Park
Located in the dense rainforest 12 miles past Hana, the Kipahulu District of Haleakala National Park is home to a drive-up coastal campground. A spacious grassy area can host several tents or car campers. The campground itself is located near Kipahulu's most prominent attractions: the Pipiwai Trail and the Pools of Oheo.
Amenities: Several picnic tables and grills are available for use within the camping area. Pit toilets are also found in the campground. Unfortunately, there is no water available. In addition, Kipahulu is utterly remote, and there is little to no cell service, no nearby stores, and limited emergency services.
The Lowdown: Kipahulu Campground is first-come, first-serve, and campers must pay the $30 National Park entrance fee. Stays here are limited to a maximum of three nights. Kipahulu is a popular weekend retreat for locals and an in-demand stop for visitors breaking their road to Hana excursion into two days. Located amid the verdant jungle, rain, humidity, and mosquitos are plentiful. Tarps are recommended for tent camping, as nightly downpours are common. (Please note that as of December 2021, the Kipahulu Campground is temporarily closed due to covid-19. The campground will reopen once Haleakala National Park is operating at full capacity.)
Waianapanapa State Park
Black sand beaches, crystalline freshwater caves, and husky lava arches: it's not surprising that Waianapanapa State Park is one of Hana's top attractions. Aside from its famed black sand beach, Waianapanapa is home to 12 comfortable cabins, a tent camping site, and hiking trails.
Amenities: The cabins at Waianapanapa offer a range of amenities that would be considered luxurious at other camping locations, such as a furnished kitchen/living room, bathroom, bedroom, electric 2-burner hotplate, microwave, and refrigerator. Each cabin can accommodate six people. For tent campers, amenities such as outdoor showers, picnic tables, drinking water, and fire pits can be found on the premises.
The Lowdown: All camping accommodations at Waianapanapa State Park must be reserved in advance on the Department of Land and Natural Resources site. Camping will run residents $20 p/n and non-residents $30 p/n. The cabins have a nightly rate of $70 for residents and $100 for non-residents. Waianapanapa is roughly a three-hour drive from Kahului, and there is little cell reception near the park. However, Waianapanapa is only a short drive from Hana Town, where cell service, markets, food trucks, and restaurants are available.
West Maui
Papalaua Wayside Park
Papalaua Wayside Park is one of the most accessible camping locations on the Valley Isle, situated on the water just off Honoapiilani Highway. With a velvety strip of golden sand, nearby snorkeling spots, kayaking nooks, and a beginner surf break, Papalaua is a favorite among local families, and the site can get crowded on weekends and holidays.
Amenities: Papalaua Wayside Park hosts tent and car camping only. There are a few designated picnic tables, grills, and portable toilets on-site, but no water.
The Lowdown: Papalaua is a county campground requiring permits and fees. For additional information and contacts, visit the Maui County site. The campsite is closed for camping on Tuesdays and Wednesdays. Although ultra-accessible, Papalaua's proximity to one of Maui's major highways can create some unwanted noise at night. The campground is also located in a kiawe tree grove, so be wary of walking around barefoot. Lastly, the wind can be an issue at this location, so be sure to check the weather for any wind advisories before your trip.
Camp Olowalu – embed video and link to any major page of mine.
Situated between the vibrant Olowalu reefs and the West Maui Mountains, Camp Olowalu strikes a perfect balance between camping and comfort. This privately owned campsite boasts tent camping, car camping, boutiquey tentalows, and beachfront cabins. In addition, Camp Olowalu is home to a pristine beach with snorkeling and kayak opportunities. The campground is also close to hiking trails and the towns of Lahaina and Kahului.
Amenities: Amenities vary depending on accommodation, but all campers can enjoy hot water showers, fully stocked bathrooms, picnic tables, BBQ grills, wifi, and trash and recycling stations. Cabin campers will enjoy kitchen amenities like stovetops, ovens, refrigerators, as well as a 900 sq. ft mess hall. Camp Olowalu is located just a short walk from Olowalu General Store.
The Lowdown: This West Maui campground has been around since 1955 but was established as Camp Olowalu in 2006. After a series of upgrades in 2015, it serves as the most luxurious campsite on the island and is beloved by staycationing residents and visitors alike. Fronting the camp is one of Maui's oldest and most preserved reefs. In addition, camp Olowalu has partnered with Kayak Olowalu, offering private guided kayak tours that depart from the beach at the campground.
What did we miss?  Let us know which Maui campgrounds we forgot in comments.