The Road to Hana is one of Maui's top visitor destinations. It's known for its miles of winding road, dense jungle, roadside waterfalls, and… countless rescues. The elements and the landscape in East Maui are unforgiving. Visitors often fall victim to flash floods, slippery trails, and high surf. And with so much conflicting information online, it can be challenging for visitors to decipher which spots are safe stops on the Road to Hana.
So, where is it safe and legal to stop on the road to Hana?
As a born-and-raised Maui resident, I'm here to help guide you in the right direction- literally!
Remember, when driving the road to Hana, only park in designated parking spaces (make sure both tires are over the white line!), never trespass on private property, and always pull over for local/faster-moving traffic. Don't let a line of cars build up behind you. Another rule of thumb: never leave valuables unattended in your vehicle. Smash and grabs are common in rural regions.
Safe Spots To Stop On The Road To Hana
Twin Falls – Mile Marker 2
Twin Falls is an ultra-accessible string of waterfalls, often considered the first stop on the road to Hana. A gravel road leads hikers through the jungle to a series of waterfalls and ponds. The largest and most dramatic waterfall lies about a mile up the path.
Although it is one of the safest Road To Hana stops, keep in mind that Twin Falls is a private farm that graciously allows public access, and the better part of the "hiking trail" is a driveway for residents, so be mindful of cars. Visitors to Twin Falls must park in the dedicated lot or be turned away. There is a $10 parking fee. Also, be sure to support the Twin Falls fruit stand! It's one of the better stands on the road to Hana, with smoothies, coconuts, and fresh fruit.
Be aware of flash floods and low water levels— the ponds are not always safe for cliff jumping, especially in the summer.
Huelo Lookout Fruit Stand – Mile Marker 4.5
Ok, we'll admit, there's not much to see at the Huelo Lookout. But if you've driven from Kaʻanapali and are eager to stretch your legs or get a bite to eat, this is the place. Enjoy a crepe or shave ice, or grab some banana bread or fresh fruit to go.
Look for a cute yellow stand on the oceanside of the highway near mile marker 4.5. Parking is tough unless you get there early.
Waikamoi Ridge Trail – Mile Marker 9
The Waikamoi Ridge Trail is one of the best Road to Hana stops to familiarize yourself with the dense East Maui jungle. This out-and-back trail totals less than a mile with some moderate elevation gain. The trail travels through an ocean of trees— ancient mangos, thickets of bamboo, and towering eucalyptus. Tropical florals like heliconia stand out against the encompassing green, and the Pacific pops through the trees as you climb. Most botanicals are labeled with plaques, so you can get to know the area's native and introduced plants.
Garden of Eden – Mile Marker 10.5
The privately owned Garden of Eden Maui is a lush botanical garden spread across 30 acres. 2.5 miles of hiking trails wind throughout, presenting views of waterfalls, the ocean, and Keopuka Rock— which was featured in the opening scene of Jurassic Park. The garden also features a food truck, an art gallery, picnic areas, and restrooms.
The Garden of Eden is a great turnaround point for "halfway to Hana" journeys – and many Halfway to Hana tours stop here. This includes one of our favorite tour outlets: Humble Tours. Humble Tours' Halfway to Hana excursion is a great alternative if you don't feel up to driving the road or just want a taste of Hana without spending 10 hours in a tour van.
This small-group excursion includes an exclusive tour of the Garden of Eden, which is like a Road to Hana sampler – think sweeping ocean views, mini bamboo forests, spilling waterfalls, and a maze of nature trails. And after spending time in the garden with one of Humble Tours' knowledgeable guides, you'll leave an expert on Maui's ecology.
Kaumahina State Wayside – Mile Marker 12.2
One word: restrooms. That's probably the biggest draw to this small rest area. Although, there is a pretty sweet view of Keʻanae Peninsula from the east end of the park, plus a few picnic tables. Kaumahina State Wayside has been closed since the start of the pandemic, but we're confident it will reopen. Someday…
Keʻanae Arboretum – Mile Marker 16.5
If you're looking for a place to legally and safely spot some rainbow eucalyptus trees, this is the place to do so. A paved walkway leads visitors on a short hike past 150 different types of tropical flora. Most plants are labeled, so you know what you're admiring.
Keʻanae

Peninsula – Mile Marker 16.7
Keʻanae Peninsula juts a half mile out to sea, offering those who stop unparalleled views of the surrounding sea cliffs. The Keʻanae Peninsula is home to a small, predominantly Hawaiian community. Most of the land here is occupied by taro patches. The peninsula is worth a stop for striking coastal views, restrooms, and the famous Aunty Sandy's banana bread— which also serves smoothies, coconut candy, and pulled pork sandwiches when available. The lava coastline is rugged, and the seas are rarely calm, so don't attempt to swim here.
Halfway To Hana – Mile Marker 17
The Halfway To Hana roadside stand has been a Hana Highway icon since the 1980s. The stand is a great place to grab a bite to eat, indulge in shave ice, or pick up some banana bread if you skipped Aunty Sandy's (the banana bread here is second to none too). Don't forget to take a photo next to the Halfway to Hana sign!
Wailua Valley State Wayside – Mile Marker 18.9
Keep your eyes peeled for a tiny parking lot on the road's mauka (mountain) side between mile markers 18 and 19. From the parking lot, a set of stairs leads to the overlook, where you'll soak in unobstructed views of the Pacific Ocean, the small village of Wailua below, and the vast Koʻolau Gap. Look for waterfalls streaming down the cliffside in the gap. If it's clear, you might be able to see peaks near the summit of Haleakala Crater.
The parking area at Wailua Valley State Wayside is small, so if it's full, you'll have to try again later. Be sure not to block the gate to the left when you park.
Puaʻa Kaʻa State Wayside – Mile Marker 22.5
Although there are countless waterfalls on the Road to Hana, the falls at Puaʻa Kaʻa are the safest to swim in, and they're one of the few that don't require trespassing or parking illegally. This state wayside park features restrooms, picnic areas, and ample parking— a rare sight at most Road to Hana stops! Although relatively safe, always exercise caution when swimming in the falls (lookout for flash floods and avoid cliff jumping).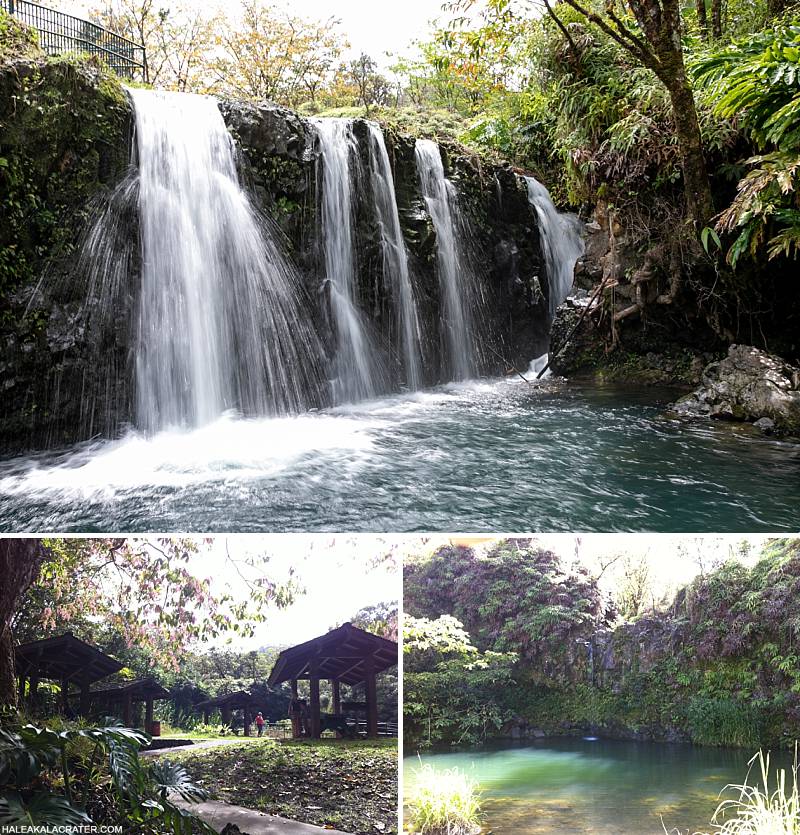 Nahiku Marketplace – Mile Marker 29
Shopping and dining are available in numbers at Nahiku Marketplace… albeit jungle style. Grab a coffee, chow on tacos, sample delicious BBQ roasted before your eyes, or pick up a unique souvenir before hitting the road again. There are restrooms here, but they're porta potties (remember how we said 'jungle style'?).
Kahanu Garden – Mile Marker 31
The 484-acre Kahanu Garden honors Hawaiian history and culture by showcasing native plants, Hawaiian "canoe plants," and traditional Hawaiian dwellings. But the garden's biggest allure is the awe-inspiring Piʻilanihale Heiau, believed to be the largest heiau in Polynesia. The ancient temple took over 300 years to construct, and today the heiau is a National Historic Landmark. Advanced booking is appreciated.
Hana Lava Tube – Mile Marker 31.1
The Hana Lava Tube, also known as Kaʻeleku Caverns, is the largest and most accessible lava tube on the Valley Isle. It's also one of the most unique stops on the Road to Hana. The public portion of the tube extends ⅓ of a mile and is studded with unusual rock formations like stalactites and lavasicles, as well as a Cold War fallout shelter. The property also houses a ti leaf maze, restrooms, and picnic areas. Entry to the tube is $15 per person.
Waiʻanapanapa State Park – Mile Marker 32
Waiʻanapanapa State Park is the most popular stop on the Road to Hana, lauded for its stunning black sand beach and rugged volcanic coastline. Wander the 122-acre park, and you'll discover winding hiking trails, storied freshwater pools, heiaus, sea arches, petroglyphs, and striking scenery in every direction. The park is also a popular camping location, with cabins and tent camping sites available. Heads up— out-of-state visitors must make a reservation to enter the park. Otherwise, you'll be denied entry.
Hana Town – Mile Marker 34
Hana Town is usually overlooked as a stop in itself. The town is typically seen as a food or restroom break— but there's so much more to do in Hana than visitors realize. If you plan on spending ample time in Hana, pay a visit to the Hana Coast Gallery, which has been called one of the best galleries in Hawaii. Pencil in time for a stop at I Love Hana Art Boutique for unique local souvenirs. Visit Hana Cultural Center and Museum to learn about the area's history and culture (temporarily closed due to covid-19). Of course, don't forget to pick up some ono grinds from some of the local restaurants or food trucks before taking a dip in the sheltered waters at Hana Bay.
Koki Beach – Haneoo Road
Red sand and Huli Huli chicken are the two biggest reasons to visit this beach. Swimming? Not so much. The surf and rip currents here are intense. Although, you might spot some local surfers shredding offshore. Instead of ocean activities, come to admire the red sand, which gains its rusty color from the eroding, iron-rich cinder cone that overlooks the beach. Past the sand to the far right sits a Huli Huli chicken stand run by an incredibly hospitable Hawaiian family. And the Huli Huli chicken plate lunch is said to be the best on Maui.
Hamoa Beach – Haneoo Road
Hamoa is a postcard-perfect cove about a mile past Koki Beach. Ocean conditions are usually calmer here than at Koki, but the shore break and currents can be unforgiving, so always use your best judgment. Hamoa is beloved for its ultra-soft sand and shady trees that offer a break from the cruel sun. On calm days, the sand-bottom seas resemble a swimming pool. When you visit Hamoa, be sure to park mindfully— don't block driveways or parking areas, and make sure you are parked on the shoulder.
Pipiwai Trail – Mile Marker 42
Located in the Kipahulu District of Haleakala National Park, this 4-mile out-and-back trail leads to several of Maui's photogenic wonders. Although moderately strenuous, depending on your fitness level, the Pipiwai Trail is one of the most popular hikes on Maui. The path passes ancient banyan trees, leads through dense bamboo forests, and concludes at the base of the 400-foot Waimoku Falls. The entry fee to the national park is $30 per car, which is good for three days and can be used for entry to the Haleakala Summit district of the park. There are also restrooms and picnic areas at the visitor center.